And On That Note is a sporadic feature discussing everything bookish.
Spoilers. It seems as if even in 2016, the age of the internet, there is no escaping from the horror that is the spoiler, a nasty parasite of a word that can shatter our dreams in an instant. But are spoilers as bad as we make them out to be, why are they so universally hated and what is all the fuss about them?
There are no escaping spoilers nowadays. Unless you live under a rock, pretty much anything with a major fan base will have been subjected to the spoiler curse at some point in its life. And in our little corner of the bookish world, every now and often again, it rears its ugly head.
I remember the first major spoiler I was ever subjected to. It was 2006, I'd just finished my mock exams and we were going over them in English Lit. Heavily detracted from the actual subject, the conversation had turned to Harry Potter, which had been released the week before, when one of the boys in my class loudly exclaimed how sad it was over a character (who I shall not name, considering after all we are talking about spoilers) who had died. I'd yet to read the book, as had half our class, because well, exams. Needless to say we were all pretty mad.
It's no coincidence I'm talking spoilers when one of 2016's biggest YA titles, Empire of Storms by Sarah J Maas is days away from it September 6th release. If you've been living under that particular rock, you wouldn't have known that the book has been released weeks early in some parts of the world, and after a YA author popped up on Instagram with a copy (found at a local airport), the book world exploded. Suddenly, people had copies of their own, read the book, and….were not okay.
It seems like in this day and age of technology, we have to tell everybody everything – and I think that's where the nitty gritty of spoilers, especially in the book community, come about. This constant need to prove ourselves to other people has led to us over sharing everything. There seems to be something about the validation we get when we tell people, "I know something you don't know, here it is!"
But spoilers are never okay. Blogger of awesomeness, Rachel from The Beauty and the Bookshelf, has a really good thread on Twitter about why spoilers are not good. And I completely agree with her – even the barest hint of a spoiler can ruin the perspective of a book for someone. And no matter how you may feel about something you've read or heard, it is not okay to ruin someone else's experience. No matter what you think. Taking your anger out on someone via social media – on Goodreads, Twitter, Instagram or whatever it is, is not acceptable. We are adults, after all, and we, especially in the book community, are better than that.
On that note, when does a spoiler become obsolete? How long does the spoiler free zone last? I gave up on shielding myself from Game of Throne spoilers for years because they were part of even every day news. But when I finally watched it, I was pleasantly surprised at how much I didn't know – and maybe because I was in part smart enough to not click on that Buzzfeed article about Jon Snow (even though ugh so tempting!). This weekend was the Melbourne Writer's Festival, and I heard a lot of people were upset in one particular session when certain books that had been out for a while were being discussed in spoilerish ways. Does the time since publication affect the no spoilers barrier?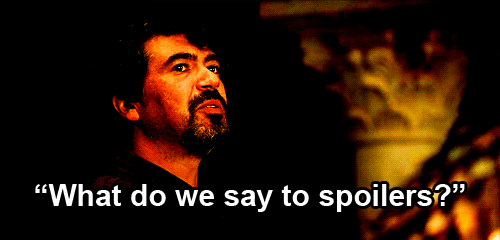 And on the subject of spoilers…no matter how angry you might be, it is never okay to lash out violently at someone, intentionally or not, verbally or not. Being in front of a keyboard gives you no less power than you had before. If you want to rant & rave, do so in a private format, with people are in the know like you. Or write down your feelings on paper and burn it. But don't ever take it out on other people – especially the authors themselves, no matter how problematic you might think their works are (and trust me, I could write a thesis on this spoiler subject at the moment).
So. Spoilers! Yay, or nay? For, or against? What do you deem to be the Spoiler Free Length of Time?
And just remember, if you spoil people…